Gatte Ki Sabzi, Bharma Tinda and Khoba Roti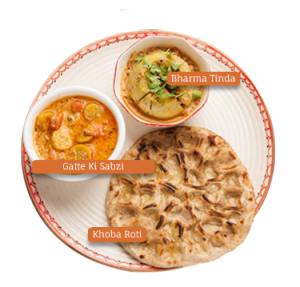 An authentic Rajasthani thali is traditionally vegetarian. It is famous for its spicy curries and gravies which are based on the regional topography and the limited availability of fresh vegetables in their desert land. For example, gatte ki sabzi is made with easily available gram flour and bharma tinda uses dry spices to make a delectable vegetable dish eaten with the very filling khoba roti doused in flavourful ghee.
The magic of the local cooks called Maharaj, creates finger-licking delicious varieties of food using ghee, lentils, flour, yoghurt and milk. The rich and unique flavours of this cuisine will have you asking for one more helping!

VIEW INDIVIDUAL RECIPES
Khoba Roti
Duration:20 minutes
Serves:2 to 4 people
Authenticity Slice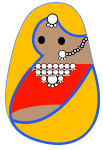 The success of this recipe depends a lot on how you knead the atta, so do spend a considerable amount of time kneading with your knuckles. This roti needs to be much thicker than the regular roti and the valley indents that you will make using your chimta (clasp) need to be spread out evenly all over the top surface of the roti.
Ingredients
Wheat flour (atta)

(1 cup)

Salt

(¼ tsp)

Cumin seeds (jeera)

(¼ tsp)

Desi ghee

(2 tbsp)
Method
Take the atta in a paraat (big, flat plate with shallow edges) and add salt, jeera and 2 tsp of ghee to it and mix well.
Adding a little water at a time, knead the dough, pressing down a bit harder than required for making regular rotis. Cover the kneaded dough and keep aside for 20 minutes.
Once 20 minutes have elapsed, lightly grease your hands with oil and knead the dough again until it is smooth. Make equal-sized balls (each three-times the size of the balls used for normal rotis), out of the dough.
Using a rolling pin, roll out each dough ball into a thick roti.
Heat a tawa on a medium flame and place the roti on it. Flip it once light brown patches begin to appear on the inside.
With the help of a chimta (clasp), make small indents on the roasted side of the roti. These must resemble mountains and a valley. Maintain the flame on a minimum low.
Keep roasting till the roti develops brown spots on the other side as well.
Take the roti off the tawa and plop it directly onto a low flame.
Roast the roti on the low flame till more brown spots appear on both its sides and they begin to turn crisp.
Place the roti on a plate and smear desi ghee on it. Pour some ghee into the dimples on the roti.
The Khoba Roti is ready to be served with dal, or with your favourite gravy, pickle or chutney.
Gatte Ki Sabzi
Duration:30 minutes
Serves:4 people
Authenticity Slice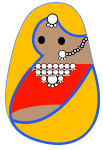 Making gatte is quite easy if you add only 2 tsp of curd at a time to bind the dough. If you add all of the curds at once, the resulting dough will become sticky.
Ingredients
label

(For Gatte)

Gram flour (besan)

(1 cup)

MTR Haldi/Turmeric Powder

(1/2 tsp)

MTR Lal Mirch/Red Chilli Powder

(1/2 tsp)

Carom seeds (ajwain)

(1 tsp)

MTR Dhaniya/Coriander Powder

(1/2 tsp)

Curds (dahi)

(1/4 cup)

Oil

( 3 tbsp)

Salt

( to taste)

label

(For Gravy)

Onion, finely chopped

(1 cup)

Tomato, finely chopped

(1 cup)

Ginger (adrak), grated

( 1-inch piece)

Garlic (lahsun), crushed

(2 tsp)

Curd (dahi)

(1 cup)

MTR Dhaniya/Coriander Powder

(1 tbsp)

MTR Jeera/Cumin Powder

(1 tsp)

MTR Lal Mirch/Red Chilli Powder

( 2 tsp)

MTR Garam Masala

(1/2 tsp)

Amchur

(1/2 tsp)

Mustard seeds (sarson)

(1 tsp)

Cumin seeds (jeera)

(1 tsp)

Ghee

(2 tbsp)

Salt

(to taste)
Method
For Gatte
In a large bowl, mix all the dry masalas and gram flour (besan).
Next, add oil and mix gently to blend.
Slowly add curd to the besan and combine to form a stiff dough.
Divide into 6 pieces and roll them, with your hands, into a cylindrical shape of about ½-inch thickness and 4-inch length.
Heat 3 cups water and bring it to a boil. Add the gatte and let them cook; they will float to the top when cooked.
Remove from heat and let them cool. Reserve the water in which the gatte were boiled.
When the gatte cool completely, cut into 1/2-inch long pieces, set aside.
For Gravy
Mix all dry masalas, except salt, to the curds and whisk until smooth.
Heat ghee in a kadhai, add mustard, cumin, ginger and garlic.
Add onions and cook until translucent.
Stir in the tomatoes and cook until they soften.
Pour in the whisked curd and cook until the oil separates.
Gently add the gatte pieces to the gravy.
Add the reserved boiling liquid if the gravy is too thick.
Cover and cook for a few minutes, turn off the flame.
Now the sabzi is ready to be served with ghee-topped khoba rotis and lehsun ki chutney.
Bharma Tinda
Duration:4
Serves:30 minutes people
Authenticity Slice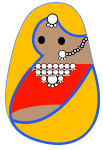 Selecting apple gourds is not very tricky, simply choose gourds that are the size of large limes, are firm to touch and have unblemished skin.
Ingredients
Apple gourds (tinda),

(15 medium sized )

Mustard oil (sarson ka tel)

(1/4 cup)

label

(Dry masala for stuffing)

Aamchur

(1 tsp)

MTR Haldi/Turmeric Powder

(1/2 tsp)

MTR Dhaniya/Coriander Powder

(1 tbsp)

MTR Lal Mirch/Red Chilli Powder

( 1/2 tsp)

Fennel seed powder (saunf)

(1 tsp)

Salt

(to taste)

label

(For tadka)

Cumin seeds (jeera)

(1 tsp)

Fenugreek seeds (methi)

(1 tsp)

Asafoetida (hing)

(1/4 tsp)

Coriander leaves (hara dhania) for garnishing

(1/4 cup chopped)
Method
Wash the apple gourds and slice off both the ends so that gourd sits well on a plate.
Starting on the top, make slits in the shape of an X, taking care not to slit it all the way to the bottom, but just enough to create a pocket to place the stuffing.
Mix all the ingredients for the dry masala and gently stuff the gourds and set aside.
Heat oil in a flat pan and add all the tadka ingredients, when the jeera splutters, add the gourds to the pan and cover. Reduce the heat and cook on a low flame until the gourds are soft.
Sprinkle water every now and then so that the gourds do not stick to the bottom of the pan.
Gently place the cooked gourds on a serving platter and serve as is, or pour any curry or gravy of your choice.
Garnish with coriander leaves and serve warm with panchmel ki dal and rotis.
RELATED RECIPES
5,104

views +

3,680

views +
GET IT RIGHT