In the node detail page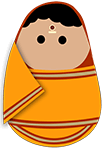 Kannada
Set Dosa
Duration: 25 mins + 12 hours to ferment
Serves:

6-8 people
Authenticity Slice
Traditionally, aromatic set dosas have a light brown hue. You can add fenugreek seeds while soaking the dal to achieve the right colour and taste.
Trivia Tadka
Here's a fun fact about set dosas. They are served in most Udupi households for breakfast in sets of 3 or 5, neatly stacked one on top of the other.
Ingredients
Idli/dosa rice

(2 cups)

Split black gram lentil (urad)

(1/2 cup)

Fenugreek seeds (methi dana)

(3 tsp)

Thin rice flakes (poha)

(3/4 cup)

Salt

(2 tsp)

Water

(1 ½–2 cups, for grinding)
Method
Wash and soak rice, split black gram lentil and fenugreek seeds together in enough water for about 2–4 hrs then drain and set aside.
Add all soaked ingredients to a mixer and grind with 1 cup water for about 2–3 mins.
Now add poha, salt and 1/2 cup of water and grind again for 2 mins. If the batter is too thick, add some more water, it should be of pouring consistency.
Transfer the batter to a container and keep it covered for 10–12 hrs, or overnight, in a warm place to ferment.
The batter will double in quantity and have a spongy texture once it ferments. It is now ready to be made into dosas.
Heat a dosa pan and pour 2 tsp oil on it. Pour a big ladleful of batter in the centre of the pan and allow it to spread itself into a 4-5 inch circle.
Cover the pan with a lid and let it cook for a minute and you will notice pores forming on the dosa.
Now flip the dosa and cook it on the other side for another minute.
Serve the dosas hot off the pan alongside yummy coconut chutney and piping hot sambar.
RELATED RECIPES
4,786

views +

7,099

views +
Scroll To Top