In the node detail page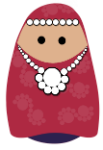 Kashmiri
Girda
Duration: 12 hours
Serves:

4–5 people
Authenticity Slice
Begin the preparation to make bread one night in advance. This way, the dough could easily be fermented for 10–12 hours. It can be baked in the morning and served through the day.
Trivia Tadka
This mouth-watering Kashmiri special is a traditional baked bread, often served as breakfast along chai and bhujia. With a crispy exterior and soft, pillowy interior, girda can be relished with an array of vegetarian and meat gravy recipes.
Ingredients
All-purpose flour (maida)

(2 cups)

Whole-wheat flour (atta)

(2 cups)

Clarified butter (ghee)

(1 tbsp)

Sugar

(1/2 tbsp)

Salt

(to taste)

Yogurt (dahi)

(1 tbsp)

Poppy seeds (khus khus)

(1 tsp)
Method
In a mixing bowl, combine all-purpose flour (maida) and salt. Stir to combine.
Knead dough, using 1 tbsp water at a time.
Let this dough rest for at least 12 hours. These 12 hours are needed for fermentation.
Keep the dough covered in a warm and draught-free enclosed place.
Once the dough is fermented, in another bowl, mix ghee, wheat flour, salt and sugar.
Combine this mixture with the fermented dough and again, knead the soft, malleable dough using water.
Divide the prepared dough into even-size small pedas (balls).
Roll out bread of oval shape from these pedas of about 4–6 inch diameter.
Coat the bread's surface with curd and sprinkle poppy seeds on it.
Make small depressions on these breads with your fingertips in about four rows.
Heat a pan (tawa) over medium-high heat.
Cook girda on the pre-heated tawa by covering it with the pan's lid. Cook until the bread is light brown in colour, after which, cook it directly over the flame.
Enjoy your hot girda with noon chai.
MEAL
1,319

views +
RELATED RECIPES
1,271

views +

839

views +
Scroll To Top