In the node detail page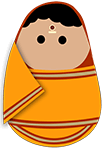 Kannada
Badusha
Duration: 30 minutes
Serves:

2 to 4 people

Spice Level: Zero
Authenticity Slice
When it comes to making the best Badushas, patience is the key. It is crucial that they be fried on a low heat, or else their insides will remain uncooked. The temperature of the oil to be used for deep frying is also very important. To check whether it is good to go, drop a small ball of the dough into the oil. If the dough rises to the top immediately, the oil is perfect. The best way to cook here is to switch off the flame and only then plop the Badushas into the oil. It is a very bad idea to crowd the kadhai with the Badushas as that could result in them cracking. And for a fantastic texture, use Vanaspati ghee.
Trivia Tadka
Badusha is a famous Diwali sweet made from flour and sugar. Badusha, or 'Balushahi' as it is known in North India, is said to inhabit traits typical of Mughalai cuisine, possibly reflecting the trade and territorial relations the Mughal Empire had with the south. Badusha is commonly sold in sweet shops across Andhra Pradesh, Kerala, Karnataka and Tamil Nadu.
Ingredients
Refined wheat flour (maida)

(4 cups)

Desi ghee

(½ cup)

Vanaspati

(1 cup)
For preparing the sugar syrup
Sugar

(¾ cup)

Water

(2 cups)

Milk

(4 tbsp)

Green cardamom (hari elaichi), powdered

(¼ tsp)

Edible camphor (karpur)

(a pinch)

Coconut, grated

(1 tsp)

Cashew nuts (kaju), roughly chopped

(1 tsp)
Method
First, mix together the Vanaspati ghee and the desi ghee and keep aside for 10 minutes.
Add in the maida and mix well using your hands.
Bit-by-bit, add in water and knead the maida into a soft dough. Let it rest for 10 minutes.
Next, divide the dough into equal, lemon-sized balls.
Using your thumb, lightly press down on each ball at the middle so as to make a small depression.
To prepare the sugar syrup, in a pan, add water and sugar and bring to a boil.
Add in the milk and boil for a few more seconds.
The impurities (if any) in the sugar will rise up to the surface. Scoop them out using a ladle.
Boil the sugar syrup till it reaches a 1-string consistency.
Add in the elaichi powder and the karpur.
Heat oil in a kadhai and gently slide in 4 to 5 Badushas.
On a low flame, fry the Badushas till they turn golden brown.
Flip them gently and cook well on both sides. Using a ladle, plop them into the sugar syrup and let them soak for 6 to 7 minutes.
Remove them from the syrup and place them on a plate so that the syrup drips and dries up.
Garnish with grated coconut and cashew nuts and serve.
RELATED RECIPES
4,583

views +

6,898

views +
Scroll To Top