In the node detail page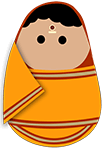 Kannada
Akki Roti
Duration: 25 minutes
Serves:

4 people

Spice Level: Medium
Authenticity Slice
The authentic method of making Akki Roti is not by rolling it out, but by flattening the rice dough on a banana leaf. It is then to be cooked on a tawa with the leaf resting on top of the roti, which helps it cook evenly and gives the dish a distinct flavour.
Trivia Tadka
The well known Akki Roti became a part of the Kodava community's food platter quite by accident. The story goes that a Kodava housewife, reluctant to serve leftover rice to her family, decided to make a fresh dish using the same rice as an ingredient. She mashed the cooked rice, added some fresh rice flour and salt to it, and kneaded it to make a pliant dough. She patted this dough into rotis on a tawa and surprised her family with a new dish, effectively inventing a staple.
Ingredients
Rice, cooked

(3 cups)

Rice flour

(1 cup)

Salt

(to taste)

Rice flour (extra)

(for dusting the rotis)
Method
Add salt to the cooked rice and knead till soft. Add the rice flour, a small amount at a time, and knead without adding water till the dough is of a roti-dough consistency.

Make lime-sized balls of the dough, cover them with a damp towel, and set them aside.

Roll out the rotis one at a time, dusting them with rice flour as needed.
Heat a cast iron tawa on medium flame and place a roti on the tawa. When it begins to bristle up, turn it over and gently press down its sides with a clean cloth. The Akki Roti will begin to puff up like an atta roti.
A few seconds just before it's fully cooked, slide the roti off the griddle using a flat pair of tongs and let it softly land directly over low flame. This helps to lock in the puffiness and make the roti's skin lightly crisp.
Follow through with the rest of the rotis in the same manner.
You may also roast the rotis the authentic way by laying the dough on a banana leaf and flattening it out to shape. While still topped by the leaf, transfer the rotis on to a tawa and cook till puffy and crisp.
Serve hot with a chutney of your choice. Usually, Akki Rotis are eaten with

Ellu Pajji (

sesame chutney).
MEAL
5,652

views +
RELATED RECIPES
4,583

views +

6,898

views +
Scroll To Top