In the node detail page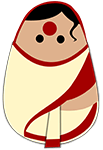 Bengali
Raw Papaya Chutney (Peper Chatney)
Duration: 25 minutes
Serves:

4 people

Spice Level: Low
Authenticity Slice
Though unconventional as per usual Bengali cooking style, the use of lime zest lends this chutney a refreshing flavour and a slight bitter tinge that tempers the sweetness. Also, unlike most chutneys, the sugar syrup in this dish is kept slightly more runny. It thickens to the right consistency when cooled.
Trivia Tadka
Today, the Bengali chutney is generally thought to be a sticky tomato mixture cooked with panch phoron (a mix of five spices) and kishmish (raisins) or aam papad. However, in earlier days, it was this raw papaya chutney that was more popular at family functions. Peper Chatney is also referred to as 'plastic chutney' because of the translucent look the papayas get when cooked through.
Ingredients
Water

(1 cup)

Sugar

(1 cup)

Papaya (raw), grated

(¾ cup)

Raw lime peel, grated

(½)

Lime slices (for garnishing)

(2)

Green cardamom (Hari elaichi)

(2)

Raisins (Kishmish)

(1 tbsp)
Method
Heat the water and sugar together in a deep pan till the sugar melts. Lower the flame and cook, stirring till the syrup begins to thicken.
To check for the consistency of the syrup, dip a spoon into it and pull it out. The syrup should not only coat the spoon, but also trickle down easily. Set aside when done.
Peel and crush the elaichi using a mortar and pestle.
In a pressure cooker, steam the papaya through 2-3 whistles on medium flame without adding water, till it turns soft. Set aside to cool.
On a low flame, reheat the sugar syrup and add the papaya, elaichi powder and kishmish.
Squeeze in the juice of half a lime and stir.
At this point, you may add a bit of zest (grated peel of a raw lime) to it as well.
Once the papaya is coated with the syrup, take it off the flame and cool.
Refrigerate for 30 minutes before serving.
Garnish with lime slices and serve chilled with rice and dal, or chapatis.
MEAL
1,813

views +
Scroll To Top