Bengali Pulao, Cholar Dal and Peper Chutney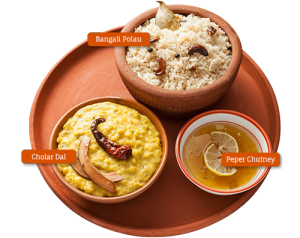 Bengali weddings have always been elaborate affairs, and the wedding feast is the touchstone of the host's hospitality and stature. Over the years, the nature of traditional feasts has changed drastically. Sit-down meals have become buffets and kola pata (banana leaf) has been replaced by plates. But some families still refuse to depart from their tradition. At such traditional Bengali weddings, one invariably encounters the combination of Bengali Polau, Cholar Dal and Peper Chutney. Although savoury, the polau and the dal are both sweetened with a little sugar or the addition of coconut milk (in the latter) to cater to the taste of communities in West Bengal. The chatney is usually cooked in a base of light syrup prepared for other sweetmeats such as rosogolla
VIEW INDIVIDUAL RECIPES
Raw Papaya Chutney (Peper Chatney)
Duration:25 minutes
Serves:4 people
Authenticity Slice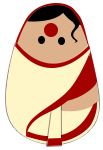 Though unconventional as per usual Bengali cooking style, the use of lime zest lends this chutney a refreshing flavour and a slight bitter tinge that tempers the sweetness. Also, unlike most chutneys, the sugar syrup in this dish is kept slightly more runny. It thickens to the right consistency when cooled.
Ingredients
Water

(1 cup)

Sugar

(1 cup)

Papaya (raw), grated

(¾ cup)

Raw lime peel, grated

(½)

Lime slices (for garnishing)

(2)

Green cardamom (Hari elaichi)

(2)

Raisins (Kishmish)

(1 tbsp)
Method
Heat the water and sugar together in a deep pan till the sugar melts. Lower the flame and cook, stirring till the syrup begins to thicken.
To check for the consistency of the syrup, dip a spoon into it and pull it out. The syrup should not only coat the spoon, but also trickle down easily. Set aside when done.
Peel and crush the elaichi using a mortar and pestle.
In a pressure cooker, steam the papaya through 2-3 whistles on medium flame without adding water, till it turns soft. Set aside to cool.
On a low flame, reheat the sugar syrup and add the papaya, elaichi powder and kishmish.
Squeeze in the juice of half a lime and stir.
At this point, you may add a bit of zest (grated peel of a raw lime) to it as well.
Once the papaya is coated with the syrup, take it off the flame and cool.
Refrigerate for 30 minutes before serving.
Garnish with lime slices and serve chilled with rice and dal, or chapatis.
Bengal Gram Lentil (Cholar Dal)
Duration:20 mins
Serves:4 people
Authenticity Slice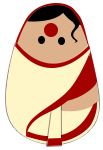 In old Bengali kitchens, Cholar Dal was cooked on a slow wood fire till each grain turned soft but still held its shape. The soft texture of the dal was a measure of the cook's skill. Today, homemakers who pride themselves in achieving the authentic taste may use the gas stove to cook the dal, but they have to keep the flame consistently low to impart the unique taste that comes from slow cooking.
Ingredients
Split chickpeas(Chana dal)

(1 cup)

MTR Haldi Turmeric Powder

(½ tsp)

Bay leaf(Tejpatta)

(1)

Salt

(to taste)

Sugar

(a pinch)

Whole red chillis(Sabut lal mirch)

(2)

Green cardamom(Hari elaichi), ground

(3)

Cinnamon(Dalchini)

(1 inch)

Cloves(Laung)

(4)

Ginger(Adrak), ground

(1 inch)

Cumin seeds (Jeera)

(1 tsp)

Ghee

(3 tbsp)

Coconut, freshly shaved

(a spoonful)

Raisins(Kishmish)

(1 tbsp)

Coconut milk

(200 ml, roughly 1 cup)

Water

(2 cups)
Method
Wash the dal thoroughly and transfer to a pressure cooker. Add haldi, tejpatta, salt, and sugar. Top with 2 cups of water.
Pressure cook on low flame through 5 whistles and then let the steam escape.
In a deep pan, heat ghee on medium flame. Add the coconut shavings and fry lightly till they turn light brown. Drain the shavings on a tissue paper and keep aside.
In the same pan, add sabut lal mirch and sauté till it turns dark red.
Add dalchini and laung. Sauté for half a minute and then add adrak, jeera, and elaichi powder. Stir for a minute and take the tadka off the flame.
Open the lid of the pressure cooker and bring the dal to a boil on high flame.
Lower the flame and pour the tadka over the dal.
Add the kishmish, fried coconut shavings, and coconut milk to the dal. Stir and bring it to a fresh boil. Check seasoning. The dal should be slightly sweet.
Take it off the flame and serve hot with steamed rice or luchis (Bengali equivalent of puri, made with maida and fried in ghee).
Bangali Polau
Duration:30-35 minutes
Serves:2 people
Authenticity Slice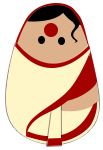 Bengalis cook the polau as a one-pot meal. All spices and dry fruits are fried in ghee and then the rice is added to the same pan. The whole thing is then cooked together.
Ingredients
Basmati rice

(1 cup)

Green cardamom (Hari elaichi), crushed

(4)

Bay leaf (Tejpatta)

(1)

Salt

(to taste)

Ghee

(3 tbsp)

Cinnamon (Dalchini)

(2 one-inch sticks)

Mace (Javitri)

(a few strands)

Whole black pepper (Sabut kali mirch)

(10)

Cashew nuts (Kaju)

(10)

Raisins (Kishmish)

(10)

Rose or kewra water

(6 drops)

Water

(2½ cups)
Method
Soak the rice in the water for 30 minutes and drain.
Transfer the rice to a deep pan, add salt, tejpatta, and crushed elaichi.
Add 2 cups of water to the rice and cook on high flame till the rice is half cooked. It takes about 10 minutes.
To check whether the rice is ready to be used in the polau, press a few rice grains with a ladle. They need to break easily when pressed. Take the rice off the flame and drain.
Spread it on a large plate to dry and keep aside.
In another pan, heat ghee on high flame. Add dalchini, javitri, kali mirch, kaju, and kishmish. Sauté till the kaju turns golden.
Now transfer the half-cooked rice into the pan along with the spices and nuts and mix well.
Add about half a cup of water and cover the pan to steam the rice on low flame for a few minutes till it is fully cooked. Check a few grains to see if they are cooked well.
Fluff the rice with a rice spoon/fork. Sprinkle a few drops of rose water and mix in gently.
Serve hot with chutney or sabzi of your choice.
RELATED RECIPES
7,217

views +

3,435

views +

4,786

views +
GET IT RIGHT