In the node detail page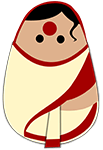 Bengali
Mishti Doi
Duration: 30 minutes
Serves:

2 to 4 people
Authenticity Slice
Remember that Mishti Doi never fails to taste great when stored in earthenware pots. While preparing it though, take care to not burn the jaggery. Also, take care not to add curd to the milk while it is hot, or else it will curdle further.
Trivia Tadka
Bengalis are well-known for their sweetmeat preparations and Mishti Doi is, arguably, their most-loved dessert. It is popular across the world. Considered an auspicious preparation, it is a must-have during festive occasions like Durga Puja. Though easily available in markets today, Bengalis still prefer to make it the traditional way and serve it in earthen pots that soak up all the loose water of the Doi and give it a thick, heady texture and flavour.
Ingredients
Milk

(1 litre)

Curd (dahi)

(3 to 4 tbsp)

Jaggery (gud)

(300 gm)

Earthen pots (handi)

(for dahi-making )
Method
In a kadhai, boil the milk on a medium flame till it has reduced to half its original volume. Keep stirring intermittently to prevent the milk from scorching. Once done, let the milk cool to a lukewarm temperature.
Meanwhile, add jaggery to a heavy saucepan and let it melt. Use 2 tbsp of water if required.
Next, add the reduced milk to the melted jaggery and mix well till they have blended.
Then, add some dahi to the mixture and stir gently to mix.
Next, pour this mix into a handi and keep in a warm, dark spot for the Mishti Doi to set.
When the Mishti Doi has set (it takes a few hours), refrigerate it for a few hours and then serve.
MEAL
2,658

views +
Scroll To Top