In the node detail page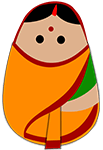 Uttar Pradesh
Hara Dhaniya Chutney
Duration: 5 minutes
Serves:

4 people

Spice Level: Low
Authenticity Slice
The best chutney is made using fresh and young coriander leaves. Remember to retain only the soft stems along with the leaves. In the absence of amchur (raw mango powder), one can use either lemon juice or tamarind paste as a souring agent.
Trivia Tadka
The Hara Dhaniya Chutney is, arguably, India's most well-known chutney and finds a presence in the culinary traditions of many parts of the country, of course with slight variations. While in Uttar Pradesh it is a must-have with khichdi, pulao and snacks, in Assam it is ground with chana dal to be savoured as a rough concoction along with rice and dal. In Punjab, it is often mixed with mint leaves, onions and garlic to make a thick chutney that is served alongside chana masala. In Bihar, it is doused in a lot of burnt garlic to give it an entirely different flavour, one that is further enhanced with a splash of raw mustard oil.
Ingredients
Coriander leaves (hara dhania), chopped

(2 cups)

Garlic (lahsun)

(1 pod)

Mint leaves (pudina), optional

(8 to 10)

Tomato, chopped

(1)

Salt

(to taste)

Cumin seeds (jeera)

(¼ tsp)

Green chillies (hari mirch)

(1)

Raw mango powder (amchur)

(½ tsp)

Sugar

(¼ tsp)
Method
Pluck the hara dhania patta from the stems. Discard the stems if they are hard. Wash thoroughly and chop.
In a mixer-grinder, work up all the ingredients along with the hara dhania and a little bit of water, if required.
Serve fresh with Tahiri.
MEAL
2,147

views +
RELATED RECIPES
7,053

views +

3,257

views +

4,583

views +
Scroll To Top