In the node detail page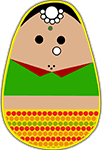 Gujarati
Authenticity Slice
Gujarati masala chai has a fresh, aromatic flavour because of all the spices added to it. Grind the dry spices in a mortar and pestle only, before adding to the milk, to bring out that authentic earthy flavour.
Trivia Tadka
According to Ayurveda, the spices used in Gujarati masala chai like cinnamon, cardamom, clove, nutmeg, ginger etc. are considered 'Sattvik' or calming, vitalizing and mentally clarifying.
Ingredients
Clove (laung)

( 1)

Cardamom (elaichi)

(2)

Tea powder (chai patti)

(1.5 tsp)

Dry ginger powder (saunth)

(1/4 tsp)

Nutmeg (jaiphal) powder

(a pinch)

Cinnamon (dalchini) (stick)

(1/2)

Sugar

(2 tsp)

Milk

(1 cup)
Method
Heat milk over a low flame. Also, roughly grind all the listed spices in a mortar and pestle or, if not available, a grinder, and set aside.
Now add tea powder and the ground spices to the milk. Boil the mix for 5 mins.
Stir it with a ladle every time it rises, for up to 3–4 times.
Add sugar and stir again. Switch off the heat and close the lid; let it rest for a couple of minutes.
Strain the tea using a sieve and serve it hot.
Note: You can adjust the quantity of tea powder, milk and sugar according to your taste/preference.
RELATED RECIPES
3,435

views +

2,778

views +

1,811

views +
Scroll To Top