In the node detail page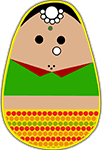 Gujarati
Doodhi Muthia (Bottle Gourd Muthia)
Duration:
Serves:

people

Spice Level: Medium
Authenticity Slice
For that authentic twist of muthia, do not throw the water away when grating doodhi. Instead, use it to blend flour and semolina together. And if required, add 1 or 2 tbsp of water to blend it well.
Trivia Tadka
A ball of flour dough stuffed with spices and veggies when pressed in the palm of the hand, takes a cylindrical shape, it is known as muthia. It can be enjoyed during breakfast or teatime too.
Ingredients
Oil

(3-4 tbsps)

Bottle gourd (doodhi), grated

(2 cups)

Onion, grated

(1 cup)

Bengal gram flour (besan)

(1/2 cup)

Whole wheat flour (gehun ka ata)

(1/2 cup)

Semolina (sooji)

(1/4 cup)

Mustard seeds (sarson)

(1/4 tsp)

Asafoetida (hing)

(¼ tsp)

Sesame seeds (til)

(¼ tsp)

Lemon (nimbu) juice

(1/4 cup)

Green chillies (hari mirch) and ginger (adrak) paste

(1/4 cup)

MTR Haldi/Turmeric Powder

(¼ tsp)

Fennel seeds (saunf)

(¼ tsp)

Cumin seeds (jeera)

(¼ tsp)

Salt

(to taste)

Sugar

(1/2 tsp)

Coriander leaves (hara dhaniya), for garnish

(1/4 cup)
Method
This recipe needs a steamer or an oiled sieve which can be kept on a vessel of boiling water to steam the muthias.
Mix grated doodhi, onion along with wheat flour, besan (Bengal gram flour) and semolina together. Semolina is added to give the snack a crunch and hold it together well.
Add in spices including MTR Haldi/Turmeric Powder, green chilli and ginger paste, cumin seeds, fennel seeds, asafoetida, sugar, salt, lemon juice and 1 tbsp of oil and mix the dough well.
Shape a lemon-size portion with your hand until it binds well. Alternatively, the muthia dough can be rolled into a cylinder of one-inch diameter, rolling it between a hard surface and the palm of the hand. Then cut it at ¼ inches intervals, to form slices or diskettes.
Steam the cut muthias for about 20–25 mins.
Once they are steamed, let them sit for 10 mins.
To temper the muthias, heat 2 tsp oil, add mustard seeds and asafoetida, once the mustard seeds splutter, add the muthias carefully, tossing them lightly.
Cook until the edges are brown in colour.
You can now serve this appetising dish with chopped coriander leaves on top.
RELATED RECIPES
3,033

views +

2,477

views +

4,853

views +
Scroll To Top