Shakarkandi Chaat, Rajgira Poori and Dahiwale Aloo ki Sabzi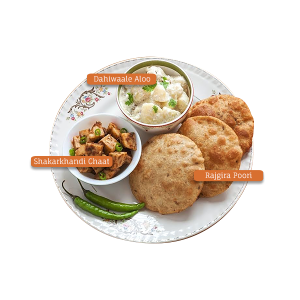 In the Northern and Western parts of India, people observe strict fasting rules during Navratri to invoke the blessings of the mother Goddess. This is a good opportunity to improve your spiritual practice and cleanse both your body and mind. Fasting rules vary from community to community, so check with your family on the tradition they follow.

Start your meal with a generous helping of the sweet and spicy Shakarkandi chaat and move onto the very hearty Rajgira poories, dipped in the subtlety spiced Dahiwale Aloo to complete a healthy lunch or dinner that is not only very nutritious but satisfying as well.
VIEW INDIVIDUAL RECIPES
Dahiwale Aloo
Duration:20 minutes
Serves:4 people
Authenticity Slice
There is nothing more comforting than eating potatoes smothered in a creamy gravy. To achieve this texture, use only room temperature curd, whip it well before adding it to the pan and make sure that the gravy doesn't curdle.
Ingredients
Potato (aloo), boiled and peeled

(2 cups)

Curd (dahi)

(1½ cup)

Green chillies (hari mirch)

(2 tsp)

MTR Kali Mirch/Black Pepper Powder

(1 tsp)

Ginger (adrak)

(1/2 tsp)

Fasting salt (senda namak)

( to taste)

label

(For tadka)

Cumin seeds (jeera)

(1 tsp)

Fennel seeds (saunf)

(1/4 tsp)

Asafoetida (hing)

( 1/4 tsp)
Method
Roughly mash the boiled potatoes into fairly large chunks.
Heat ghee in a kadhai, add cumin, fennel seeds and asafoetida. Sauté for a few seconds.
Remove the kadhai from the heat and then add ginger, chillies, MTR Kali Mirch/Black Pepper Powder and potatoes.
Add the beaten curd and put the kadhai back on heat. Pour in 2 cups of water along with salt and allow it to simmer on a low flame for 10–12 mins.
Serve it hot with crispy poories or hot chapattis.
Rajgira Poori
Duration:30 minutes
Serves:2-4 people
Authenticity Slice
Rajgira poories are fluffy and slightly stuffed in texture. Amaranth or rajgira flour does not have elasticity like regular atta flour, so making the dough and rolling it can get tricky. Here's how you can get it right. Just add boiled and grated root vegetables like potato or arbi to the flour while making the dough for a fuss-free poori making experience.
Ingredients
Amaranth seed flour (rajgira atta)

( 1½ cup)

Potato (aloo, mashed)

(1 large)

Cumin seeds (jeera)

(1 tsp)

MTR Kali Mirch/Black Pepper Powder

(3/4 tsp)

Water

(1/2-3/4 cup)

Senda namak

(to taste)

Oil

( for deep frying)
Method
In a wide bowl, add all the ingredients and mix well. Add water, little at a time, and knead until the dough is medium soft. Allow it to rest for 15–20 mins.
Make around 8–10 small dough pedas (balls) and roll each peda into a poori that is about 3–5 inch in diameter.
Heat oil in a kadhai, when the oil is hot, gently slide a poori in it. Now lower the heat and press down gently on the poori to help it puff up. Fry for a minute or until golden brown on both sides and remove on an absorbent paper.
Serve these crispy pooris hot with dahiwale aloo.
Shakarkandi Chaat
Duration:20 minutes
Serves:4 people
Authenticity Slice
Sweet, tangy with a hint of spice, this snack is loaded with all the yummy flavours we crave for in a delectable chaat. To get the authentic flavour, roast the sweet potatoes on a charcoal grill or on your stovetop to give it that wonderful smoky aroma and crisp texture for that rustic appeal.
Ingredients
Sweet potato (shakarkand)

(2 large tubers)

Green chillies (hari mirch), finely chopped

(1-2 tsp)

Tamarind chutney (imli chutney)

(2-3 tbsp)

Green chutney (hari chutney)

(2 tbsp)

MTR Lal Mirch/Red Chilli Powder

(1/2 tsp)

Black salt (kala namak)

(1/4 tsp)

Roasted cumin (jeera) powder

(1/2 tsp)

Lemon juice

(1-2 tbsp)

Coriander leaves (hara dhaniya), finely chopped

(1 tbsp)

Salt

(to taste)
Method
Chop the sweet potatoes into 2–3 pieces, roast them until brown in colour and then pressure cook for one whistle.
Let them cool, once cooled, peel and chop them into one-inch cubes.
In a large bowl, mix the sweet potatoes, spices, both the chutneys and lemon juice and mix gently to coat the potatoes evenly.
Garnish with green chillies and coriander leaves and serve it hot with a lemon wedge on the side.
RELATED RECIPES
7,217

views +

3,435

views +

4,786

views +
GET IT RIGHT