Mochar Chop, Narkel Naru & Kathi Goja with Tea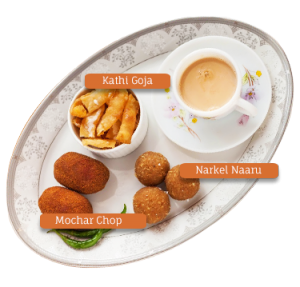 Which Bengali household doesn't enjoy snacking and socialising with friends, neighbours and relatives over a cup of tea and lots of catching up, the steaming hot Mochar Chop and the crunchy snack of Kathi Goja, the most popular combo on offer. And of course, there is Narkel Naru rounds off the get-togethers.
VIEW INDIVIDUAL RECIPES
Mochar Chop (Banana blossom chop)
Duration:30 minutes
Serves:2–4 people
Authenticity Slice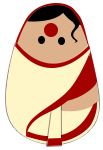 It is important that you boil the mocha in lemon juice or tamarind extract to remove the bitterness of the dish. Many people boil the mocha in diluted milk to make it softer.
Ingredients
Banana flower (mocha)

(1)

Potatoes, mashed

(3)

Green chillies, finely chopped

(4-5)

Cumin seeds (jeera)

(1 tsp)

Green cardamom (elaichi)

(2–3)

Scraped coconut & peanuts

(1//2 cup)

Cumin powder (jeera)

(1 tsp)

Ginger, finely chopped

(1 tsp)

MTR Garam Masala Powder

(1 tsp)

Sugar

(1/2 tsp)

Salt

(to taste)

Mix of cornflour and breadcrumbs

(1/2 cup)

Tamarind extract (imli)

(2 tsp)

Oil

(for deep-frying)
Method
Collect the florets of the flower, tear out the middle stem (stigma) and finely chop the florets in batches.
Boil the florets in water with lemon juice or tamarind extract for 10 minutes.
Strain the florets in a strainer and discard the water, squeeze out the extra water and keep aside.
Heat 1 tsp oil in a pan and temper it with jeera. As the jeera crackles, add the chopped banana florets and sauté for 2 minutes.
Add peanuts or grated coconut along with jeera powder, MTR Garam Masala Powder, ginger, salt and sugar. Stir-fry for 2–3 minutes and keep aside.
In a bowl, mash the potatoes into a paste and mix in some salt and green chillies.
Pluck out balls and flatten them like patties.
Fill the patties with the floret mixture and seal the edges.
Shape the patties as you desire and dust each chop with cornflour and breadcrumbs mix.
Heat oil in a kadhai and deep-fry the chops till they turn golden brown.
Serve the hot mochar chop with kasundi (Bengali mustard sauce) or any other chutney of your choice.
Narkel Naru (Coconut Laddoos)
Duration:30 minutes
Serves:4–6 people
Authenticity Slice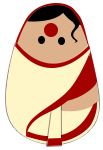 The longer you cook the nary the harder it becomes. So if you like it soft laddoos, adjust the cooking time accordingly. The mix becomes solid once it cools, so keep mind that whatever stage you stop cooking, the naru will be harder than that.
Ingredients
Milk, full fat

(4 cup)

Fresh coconut, grated

(2 cup)

Jaggery

(1 cup)

Green cardamom powder (elaichi)

(1 tsp)
Method
Break the jaggery into small pieces.
Heat water in a kadhai and add the jaggery to it. Slowly stir on medium heat till the pieces dissolve. Bring it to a slow boil and switch off the flame.
Add elaichi powder and the grated coconut. Toss and stir to mix.
Turn on the flame and cook on low heat, stirring occasionally to prevent the mixture from sticking to the bottom of the pan.
Keep cooking till the mix is sticky. It will take around 20 minutes.
When the coconut coating is solid enough to shake off your stirring spoon, the mixture is done.
Remove immediately from heat and spread it onto a plate.
Scoop out a handful of coconut mix while it is warm, and roll it into a ball.
Offer as prasad and store the rest in an airtight jar.
Kathi Goja
Duration:20 minutes
Serves:2-4 people
Authenticity Slice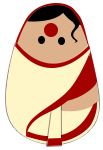 Make sure the dough is stiff, also keep it covered for 15 minutes.
Ingredients
Refined wheat flour (maida)

(1 cup)

Cooking oil

(2 tbsp)

Baking powder

(1/2 tsp)

Oil

( for frying)

Sugar

(1 cup)
Method
In a paraat, mix baking powder with maida. Add oil and mix well.
With water, knead stiff dough and let it rest under cover for about 10-15 mins.
Divide the dough into 3 parts.
Roll out each part into a thick roti of about ¼-inch thickness.
With a knife, cut the roti into thin strips, a quarter inch broad and 1½ inch long.
In a kadhai, heat enough oil for frying the gojas.
Fry in batches on low heat till they turn light brown.
To make syrup, boil 1 cup sugar in1 cup water till the syrup reaches one-string consistency.
Add the fried gojas to the syrup.
Remove from heat and mix well so that the gojas are sugar coated and dry.
Let them cool before serving.
RELATED RECIPES
7,217

views +

3,435

views +

4,786

views +
GET IT RIGHT