Goan Kuswar Platter: Kulkuls, Perad, Dodol & Neurios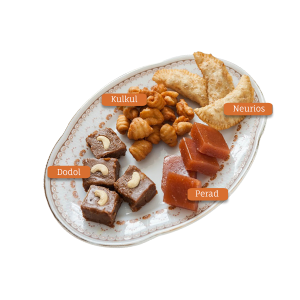 Come December all homes in Goa buzz with excitement to celebrate the festivities that last for almost the whole month. A special platter of Christmas goodies comprising sweets and savouries called Kuswar are prepared way in advance and then distributed amongst friends and relatives.
Kulkuls are small crescent-shaped crispy bites that are mildly sweet with a hint of coconut, so addictive that you can't stop at one! Did you know that guavas can be made into a halwa-type dish? Well, Perad is exactly that, rosy pink coloured little bites that are so lusciously soft that they melt in your mouth. Dodol is another unique preparation that is made with the unusual palm jaggery that almost has a treacle-like flavour which is blended with rice and wheat flour to create an almost jelly-like dessert that is hard to resist. Another gem in the Kuswar is the Neurios which is similar to Karanjis or Gujiyas, a crispy crust is stuffed with sweetened coconuts and plenty of crunch from cashew nuts. This holiday season surprise your family and friends by putting together a Kuswar platter when they come visiting you before New Year celebrations.
VIEW INDIVIDUAL RECIPES
RELATED RECIPES
7,217

views +

3,435

views +

4,786

views +
GET IT RIGHT