In the node detail page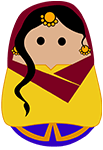 Punjabi
Til Gud Ki Patti
Duration: 35 mins
Serves:

10-15 pieces people
Authenticity Slice
The smooth consistency and sweet, slightly crunchy taste of this dish comes from the jaggery mixture and sesame seeds. Make sure to grate jaggery thoroughly before cooking.
Trivia Tadka
Til ki patti is very similar to chikki, in winters it is made with freshly formed jaggery and in summers, it's made with sugar.
Ingredients
Sesame seeds (til)

(2 cups)

Jaggery (gud), grated

(2 cups)

Clarified butter (ghee)

(2 tbsp + 2 tbsp)

Pistachios (pista), finely chopped

(2 tbsp)
Method
Heat a heavy-bottom pan and lightly toast sesame seeds for 3–5 mins or till they pop.
Once they are cool, blend to a fine powder.
Grease a wide plate, a chopping board or a marble surface and a rolling pin and set aside.
Heat 2 tbsp ghee in a kadhai, add jaggery and allow it to melt for 1–2 mins.
Add sesame seed powder and keep stirring until it's incorporated in the jaggery.
Pour the sesame and jaggery mixture onto a greased surface and sprinkle pistachios on top.
Using a greased rolling pin work quickly to smoothen/roll the jaggery surface as thin or thick you like.
While the mixture is still warm, cut into desired shapes like rectangles or a kite shape.
Allow the mixture to cool, once cool, using a knife, pry the patti pieces loose.
Store in an airtight container for up to 15 days.
Scroll To Top