In the node detail page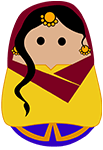 Punjabi
Pinni
Duration: 45 mins
Serves:

15-20 pieces people
Authenticity Slice
Pinni is known for its rich taste and crunchy texture. You can get pinni right by roasting whole-wheat flour in ghee on low heat.
Trivia Tadka
Pinni is a winter delight made all over Northern India especially in Punjab. The dessert is made with nutritious wheat flour, ghee and a lot of nuts all of which are necessary to keep the body warm and provide essential fats needed to sustain the harsh winter of the Northern regions of India.
Ingredients
Whole-wheat atta (gehun ka atta)

(2 1/2 cups)

Powdered sugar (burra shakar)

(3/4-1 cup)

Clarified butter (ghee)

(1/2–3/4 cup)

Almonds (badam), chopped

(1/4 cup)

Cashew nuts (kaju), chopped

(1/4 cup)
Method
In a wide kadhai or heavy-bottom pan, add 1/2 cup ghee and whole-wheat atta.
Keeping the flame low, keep stirring it for 8–10 mins until it develops a nutty aroma and acquires a pinkish brown colour.
Don't stop stirring or the atta might burn.
Remove from the flame and place it in a large bowl or plate.
Add the chopped nuts and powdered sugar.
Mix well and try to form lemon-sized pedas (balls), if the mixture does not come together, add more ghee and mix again until you are able to form tight laddoos.
Allow the laddoos to cool and store in an airtight container for up to 2 weeks.
Scroll To Top