In the node detail page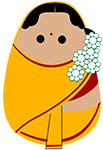 Telugu
Pesarattu
Duration: 30 minutes
Serves:

6 people

Spice Level: Low
Authenticity Slice
Using ready-made/pre-made rice flour as a quick fix tends to make the Pesarattu too crispy. It's best to soak the rice overnight alongside the dal to get the texture just right.
Trivia Tadka
Pesarattu is a type of dosa unique to Telugu cuisine ('attu' literally translates to 'soft dosa'). It is prepared from the batter of sabut hari moong dal and rice, unlike a regular dosa, which is made from the batter of rice and urad dal. Pesarattu is generally eaten as a snack with chutney. Hari mirch, dhania, adrak, and onions are used as fillings in different variants of this dish, depending on the region and community.
Ingredients
Sabut moong dal (whole green gram), washed and soaked for 5-7 hours

(2 cups)

Rice, soaked for 5-7 hours separately

(½ cup)

Green chillies (hari mirch), chopped

(3)

Ginger (adrak)

(½ inch)

Asafoetida (hing)

(¼ tsp)

Salt

(1 tsp)

Coriander leaves (hara dhania, chopped)

(a few)

Onion, chopped

(¼ cup)

Ghee

(½ tsp)
Method
In a mixer-grinder, grind the dal, rice, hari mirch, adrak, hing and dhania leaves to a smooth dosa-batter consistency. Add salt to taste and set aside for 5 to 10 minutes. The batter needs to settle for a while so that the dal is completely soft.
Heat the tawa. Wipe it with a moist cloth when hot and grease with ghee.

Pour a small katori of batter in the centre of the tawa and move the katori in concentric circles quickly, using the katori base to spread the batter. Increase the flame to high. As the edges of the Pesarattu start to curl up, sprinkle ghee around it and some on top as well.

Sprinkle onions and dhania on top of the Pesarattu, pressing down gently. Let it cook for about 30 seconds more on low flame. No need to flip the Pesarattu. It will be ready to serve once it gives off a pleasing aroma and is no longer sticky at the top. Gently slide a wooden spatula under it and transfer to a serving plate.

Present the Pesarattu rolled up like a regular dosa. Serve with chutney of your choice, though traditionally ginger chutney is preferred. To enhance the flavour of the Pesarattu and give it a deep golden hue, Andhrites use cow milk ghee, which is yellow, more textured, and has a strong aroma.
MEAL
2,655

views +
RELATED RECIPES
3,503

views +

2,667

views +
Scroll To Top