In the node detail page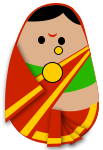 Maharashtrian
Pav Bhaji
Duration: 20 minutes
Serves:

2 to 4 people

Spice Level: Medium
Authenticity Slice
A dash of lemon juice, for that extra zing, and some chopped onions as garnish, enhances the taste of the Bhaji greatly. So, don't forget to place a lemon wedge on the side while serving this dish.
Trivia Tadka
This specialty dish is popular in every kitchen and by-lane of Mumbai. It was invented as a midnight snack by food vendors who had to feed the night-shift workers of Mumbai's textile mills way back in the 1850s. The Bhaji came about when these cooks threw in together the leftover vegetables of the day, mashed and spiced them up, and then served it with Pav. Over time, the dish spread all over central Mumbai and other parts of the state, mainly via Udupi restaurants. The origin of the word 'Pav' is interesting too. 'Pav' means a 'quarter' in the local language, and became an apt moniker for the bread as people broke 1 of the 4-piece bread at a time to eat with the Bhaji. Another story states that 'Pav' is in fact a derivate of the Portuguese word 'Pao', as in 'bread'.
Ingredients
For the Pav:
All-purpose flour

(3 cups)

Bread flour/vital gluten

(1 tbsp)

Dry yeast

(3 tsp)

Salt

(1 tsp)

Sugar

(1 tbsp)

Milk

(2 cups)

Butter, melted

(2 tbsp)

Milk, to brush on top

(2 tsp)
For Bhaji:
Potatoes (aloo), diced

(2)

Green peas (hari matar)

(1 cup)

Carrots (gajar), diced

(½ cup)

Cauliflower florets (phoolagobhee)

(1 cup)

Bell pepper (shimla mirch), diced

(½)

Tomato, chopped

(1 cup)

Onions, chopped for garnish

(¼ cup)

Coriander (hara dhaniya), chopped

(½ cup)

Lemon, cut into wedges

(1)

MTR Lal Mirch/Red Chilli Powder

(3 tsp)

Ginger-garlic (adrak-lahsun) paste

(2 tsp)

MTR Haldi/Turmeric Powder

(½ tsp)

MTR Pav Bhaji Masala

(4 tsp)

Butter

(3 tbsp)

Salt

(to taste)

Green chillies (hari mirch), sliced

(5 to 6)

Water

(½ cup)
Method
To make Pav
Put the flour, yeast, bread flour, salt and sugar together in the bowl of a stand mixer.
Attach the paddle to the mixer and stir for a few seconds.
Heat up the milk and butter together until lukewarm. Pour the milk and butter mix into the bowl while maintaining the mixing speed at 'low'.
Switch to a dough hook and knead until smooth and almost shiny.
Place the dough in a well-oiled bowl. Cover with plastic wrap.
Keep it in a warm place until it has risen to double its original size. Depending on the weather, it can take anywhere between 45 mins to an hour, or sometimes even more.
Once the dough is double in volume, take it out of the bowl and punch it down to release the trapped air.
Line a baking sheet with parchment paper and set to work on shaping the pav.
Make balls out of the dough.
Place them on the baking sheet and position them close to each other so that they touch.
Cover with a kitchen towel, and leave them undisturbed for another 30 mins.
Pre-heat the oven to 420*F.
When the rolls rise, brush them with some milk.
Bake for about 15 mins, until they have risen and are brown on top.
Cool before serving as pav.
Slit the pav at the centre. Heat a pan, plop some butter on it and place the pav face down on it. Heat it until it is lightly crisp on the inside.
Serve with the Bhaji.
To make Bhaji
Steam-cook the potatoes, cauliflower, peas, bell pepper and carrots until they have softened.
Heat 2 tsp of butter in a kadhai and put in the ginger-garlic paste. Stir-fry till fragrance begins to waft up.
Next, add 1 tsp of MTR Lal/Mirch Red Chilli Powder and MTR Haldi/Turmeric Powder and sauté.
Then, add in the tomatoes and keep stirring till they have turned mushy.
Add the bell pepper, peas and cauliflower and mash them into the tomato mix.
Next, add the potatoes along with ¼ cup of water and mix it all together.
Keep mashing till the mixture has turned smooth. Then, add the rest of the MTR Lal Mirch/Red Chilli Powder, the green chillies, MTR Pav Bhaji Masala, salt and hara dhania.
Mix and mash well. Keep adding a little water to ensure that the bhaji does not stick to the pan.
Cook for about 3-4 mins on medium heat to ensure that the spices get cooked and get mixed in well.
Put some bhaji onto a plate, top it with some butter, chopped onions, hara dhania and a small lemon wedge.
Serve piping hot with pav.
RELATED RECIPES
1,306

views +

1,610

views +
Scroll To Top