In the node detail page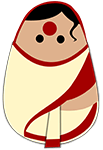 Bengali
Kumro Chechki
Duration: 20 minutes
Serves:

4 people

Spice Level: Low
Authenticity Slice
Use only the larger variety of mustard seeds to achieve the authentic flavour of this Bengali dish. Alternatively, some Bengali households also use kalaunji (nigella seeds) and hari mirch to create a medley of flavours.
Trivia Tadka
In Bengali households, the men were often instructed to buy pumpkins that were fresh, big, and bright orange in colour. The reason behind this was Kumror Chechki—a special pumpkin dish—which is a must-have at wedding feasts today. The sweetness of the sabzi may be an acquired taste for some, but Bengalis are used to and love its slight sugary taste. Chechki is a healthy dish that offsets the other richer dishes that form a major part of the Bengali thali.
Ingredients
Pumpkin (Kaddu), cut into 1½-inch long pieces

(1½ cups)

Yellow mustard seeds(Sarson)

(1 tsp)

green chillies (Hari mirch), slit

(2)

Yellow mustard seeds (Sarson), paste

(2 tsp)

Salt

(to taste)

Sugar

(a pinch)

Mustard oil (Sarson ka tel)

(1 tbsp)

Water

(¼ cup)
Method
Heat the sarson ka tel in a pan till it gives off smoke.
Add the hari mirch and sarson seeds and sauté for a minute or till the chillies begin to give off an aroma.
Add the pumpkin. Cook till the pieces or cubes just begin to soften. Sprinkle some water if they start sticking to the pan.
Lower the flame and stir in the sarson paste. Add a quarter cup of water and mix the paste with the pumpkin.
Add the salt and sugar and cover. Cook for about 7 minutes till the pumpkin is soft but not mushy.
Take off the flame and serve hot with roti or steamed rice and dal.
Scroll To Top