In the node detail page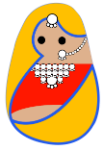 Rajasthani
Gatta Kadhi
Duration: 30 minutes
Serves:

4 people

Spice Level: Low
Authenticity Slice
The trick to making the perfect Gatta lies in the right amount of boiling water in which it is cooked. The authentic way is to boil the Gattas in a lot of water to allow the pieces to move around freely in the pot and not stick to each other.
Trivia Tadka
Legend has it that 'Gatta'—a stout dumpling made with gram flour—originated in the war kitchens of Marwar. The chefs there are said to have felt that it was the best source of nutrition for all the warring vegetarian soldiers. Over time, however, Gatta has come to be a signature dish of the Rajasthani cuisine. This is mainly because of its versatility, as it can be served in numerous gravy preparations.
Ingredients
Gram flour (Besan)

(1 cup)

Ginger (Adrak), finely chopped

(1 tsp)

Jeera (cumin)

(1 tsp)

Tomatoes, chopped (medium)

(2)

MTR Haldi Turmeric Powder

(½ tsp)

MTR Dhaniya Coriander Powder

(1 tsp)

MTR Lal Mirch Chilli Powder

(to taste)

Salt

(to taste)

Oil

(3 tbsp)
Method
Add the besan to a bowl and season it with salt and MTR Lal Mirch/Chilli Powder. Mix well.
Mix in the adrak. Add 1 tbsp oil to the mix and knead the mixture using as much water as required to make a pliant dough.
Place a big pot of water on high flame and bring it to a boil. Season the boiling water with salt.
Break the dough into two portions. Lightly grease your working surface. Place one half of the dough on the working surface and using the flat of your palm, roll the dough so that you get a long rope of about the same thickness as your index finger. Repeat the procedure with the rest of the dough.
Now, cut out 2-inch-thick individual pieces from the ropes. Plop these pieces into the boiling water. Make sure that there is enough water and that the Gattas do not stick to each other.
It will take the Gattas about 10-15 minutes to be ready.
While the Gattas are boiling, get the gravy preparation going.
Heat 2 tbsp oil on a medium flame and add the jeera. Wait for it to crackle. Then, add the MTR Haldi/Turmeric Powder and the MTR Dhaniya/Coriander Powder and sauté.
Add the tomatoes and cook till they are mushy and the oil begins to separate from the pulp.
Add enough water to get your preferred gravy consistency. Season with salt and lal mirch powder.
Using a spoon, remove the cooked Gattas from the boiling water, and carefully add them to the tomato gravy. Check for sourness and add a pinch of sugar in case it is too acidic. The ideal Gatta Kadhi taste is tangy, but not sour.
Serve the Gatta Kadhi piping hot with rotis.
RELATED RECIPES
3,235

views +

4,764

views +
Scroll To Top