In the node detail page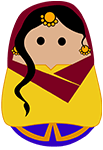 Punjabi
Gajar Ka Halwa
Duration: 40 minutes
Serves:

4 people

Spice Level: Zero
Authenticity Slice
To make this halwa in an authentic way, simmer the carrots in the milk for at least an hour. It is important to let the milk absorb the flavour and sweetness of the gajar. Therefore, the longer you simmer, the richer and tastier your halwa will turn out.
Trivia Tadka
Though Gajar Ka Halwa originated in the Mughal kitchens, it has become a popular sweet dish in the state of Punjab. Its vibrant colour, rich aroma, and melt-in-the-mouth texture have made it a much-loved winter dessert. Originally, the carrots used were of the deep purple variety, indigenous to Afghanistan. At that time, the Halwa was an integral part of the feast arranged to please the emperor. The modern-day Gajar Ka Halwa has many variations that are achieved by using khoya, rose water, and kewra water to enhance its richness, colour and taste.
Ingredients
Carrots, grated

(1 kg)

Milk

(2 litres)

Green cardamom (hari elaichi)

(8)

Ghee

(6-7 tbsp)

Sugar

(6-7 tbsp)

Raisins (kishmish)

(2 tbsp)

Almonds (badam), finely sliced

(1 tbsp)

Cashew nuts (kaju), chopped

(2 tbsp)
Method
Wash, peel, and finely grate the carrots using a hand grater or a food processor.
In a heavy-bottomed pan, pour the milk and bring it to a boil. Then, turn down the flame and let the milk simmer.
As the milk bubbles, add elaichi and simmer for about 5 minutes more, stirring continuously.
Add the grated carrot and keep stirring occasionally till the milk is absorbed into the carrots and the mixture turns into a thick, orange pulp.
In a separate pan, add ghee and heat. Make sure you do not wait till it gives off smoke.
Add the cooked carrot-milk pulp to the ghee and stir over low flame for about 15 minutes. The mixture will soon begin to give off a sweet, rich aroma and the texture will become soft and translucent.
Stir in the sugar and check the sweetness. If you are using tender carrots, remember that they impart their own sweetness to the dessert.
Continue cooking over low flame till the halwa turns darker and is almost dry.
Now, add the dry fruits and sauté over low flame for another 10 minutes. Take care to stir continuously because at this point, the dessert can burn easily.
When the halwa is completely dry, take off the heat.
Garnish the halwa with dry fruits and a dollop of desi ghee. Serve piping hot.
Scroll To Top