In the node detail page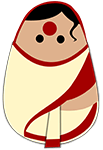 Bengali
Daaber Ghol
Duration: 15 minutes
Serves:

2–4 people
Trivia Tadka
This Bengali lassi-like drink is believed to have originated in Bangladesh. It is a tad different from the Punjabi lassi as it is made using tender coconut water.
Ingredients
Tender coconut (daab), fleshy part of a coconut

(1)

Coconut water

(of 1 coconut)

Sugar

(2 to 3 tbsp)

Curd (dahi), sour

(1 cup)

Rock salt (kala namak)

(1/2 tsp)

Lemon juice

(1/2 tsp)

Rose water

(1 tsp)

Mint leaves (pudina)

(4)

Rose petals

(2–3)
Method
Blend the soft coconut flesh and sugar in a grinder to make a smooth paste. Keep aside.
In a grinder jar, mix curd, salt, tender coconut paste, coconut water, lemon juice, rose water and mint leaves and grind for 2 mins.
Adjust salt and sugar and stir well.
While serving, add ice cubes and rose petals to the beverage.
Scroll To Top