In the node detail page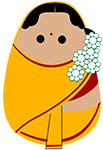 Telugu
Boondi Laddoo
Duration: 30 minutes
Serves:

2 to 4 people

Spice Level: Zero
Authenticity Slice
For the best results, one should prepare the laddoos using fresh gram flour. Also, the water content in the boondi batter must be measured well, or else the boondis will come out flat. Once the batter has been prepared, it is a good idea to test its consistency by taking a spoonful and pouring it over the boondi ladle. Ideally, the droplets should fall through immediately. Remember to always add the fried boondis to the sugar syrup while it is still hot. The laddoos cannot be made if the sugar has crystallised.
Trivia Tadka
Diwali is never complete without gorging on delicious home-made Boondi Laddoos. Ghee-fried boondi is always the best-tasting boondi. The word 'laddoo' comes from the Sanskrit 'ladduka' or 'lattika', meaning a 'small ball'. Boondi Laddoo is considered a favourite of Lord Ganesha and is offered as prasadam on Ganesh Chaturthi. In Andhra Pradesh, Boondi Laddoos form the main prasadam at the Tirupati Venkateswara temple. It is believed that this temple collects huge profits through the worldwide sale of this prasadam. In the Maharashtrian culinary tradition, these laddoos are considered trusted travel food items.
Ingredients
Gram flour (besan)

(1 cup)

Sugar

(1½ cup)

Green cardamom (hari elaichi)

(6)

Melon seeds (magaz)

(2 tbsp)

Oil

(1 tbsp for mixing in the gram flour mixture)

Desi ghee

(for frying the boondi)
Method
Sift the gram flour through a sieve and put it in a bowl.
Add in water a little at a time and keep stirring until all lumps have dissolved.
Add in some more water, and some oil. Rigorously whisk the batter until it turns a shade paler and is of pouring consistency. Keep aside.
Meanwhile, prepare the sugar syrup. Add the sugar to a utensil and pour 1 cup of water into it. Let the sugar dissolve completely.
Cook on a high flame for 3 to 4 minutes. Place a drop of the syrup on a spoon, allow it to cool down a bit and with the help of your thumb and forefinger, check for its consistency. It should form a thread when you tap it.
Heat oil in a kadhai. Once the oil is hot, place the ladle about 6 to 7 inches above the pan and with the help of a spoon, pour the gram flour batter onto it. The mixture should fall through the ladle into the pan and swim up immediately.
Keep frying till the boondis turn golden brown. Then, drain them out of the kadhai.
Add the cardamom, cashew nuts and melon seeds to the sugar syrup.
Next, add the boondis to the syrup and mix well.
Allow the boondis to soak in the syrup completely. Let the mix cool down.
Grease your fingers and palms with some ghee and make round laddoos out of the sweetened boondis.
Serve and store.
RELATED RECIPES
3,617

views +

2,766

views +
Scroll To Top