In the node detail page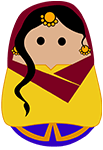 Punjabi
Babbroo
Duration: 2 to 4
Serves:

15 minutes people

Spice Level: Zero
Authenticity Slice
It is essential to ensure that the ratio of 1:5 is maintained for the wheat and jaggery, or else the jaggery will stick hard to the hot pan. Also, while spreading out the batter, always remember to place the griddle on a low flame; it will be difficult to spread the batter if it is hot.
Trivia Tadka
This is a sweet dish popular in Punjab and the border districts of Himachal Pradesh. The best thing about this recipe is that it makes use of basic, everyday ingredients. It is no wonder then that it is the go-to prasad made fresh for daily puja at homes across this region. It is also a hot-sell at the wedding ceremonies of the farmers from this region.
Ingredients
Wheat flour (atta)

(2 cups)

Jaggery (gud)

(1 cup)

Desi ghee

(for frying )
Method
Heat a kadhai and pour in 1 medium-sized glass of water along with the crushed jaggery. Once it has dissolved, add in the atta and mix well till all lumps have disappeared and the batter begins to look consistent and smooth. Turn off the flame and keep the mix aside for an hour.
Spread the ghee onto a griddle and heat it on a low to medium flame. Once the griddle has heated up, turn the flame down to low and carefully spread about 3 tbsp of the batter on it. Think of the shape and form of a thin chilla.
Fry the poora, and sprinkle on some more ghee. Once its colour has changed to golden, carefully lift it with the help of a ladle and flip. Let the other side turn golden too.
You know the poora is ready when it comes off the griddle with little effort. Transfer it to a serving dish.
Repeat the steps for the rest of the batter and prepare other pooras.
Serve with kheer, or eat just as it is.
Scroll To Top