In the node detail page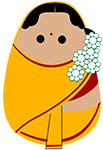 Telugu
Allam Pachadi
Duration: 30 minutes
Serves:

2 people

Spice Level: Low
Authenticity Slice
Use only tender adrak, which is smooth to taste and not gravelly with threads. Generally, Andhrites break the adrak into pieces at the vegetable store to check the roots and avoid picking those with strands. In some areas of the state, shopkeepers actually stock an 'Allam Chutney' variety of adrak separately.
Trivia Tadka
Though adrak is not commonly used in cooking Andhra vegetarian dishes, Allam Pachadi (adrak chutney) is not only an exception, but also a favourite condiment in most typical homes. However, older epicureans from the Rayalaseema region of the state frown upon it being labelled as a condiment. They eat it with ghee and rice as a midday main course meal. Though best served with Pesarattu (a type of dosa made of sabut moong dal), it also pairs well with idli, dosa, and vada.
Ingredients
Ginger (Adrak)

(2 inches)

Tamarind (Imli), seedless

(1 lemon sized ball)

Jaggery (Gud)

(2 tbsp)

Black mustard seeds (Rai)

(1 tsp)

Cumin seeds (Jeera)

(1 tsp)

Black gram (Urad dal)

(2 tsp)

Split chickpeas (Chana dal)

(2 tbsp)

Coriander seeds(Sabut dhania )

(2 tbsp)

Whole red chillies(Sabut lal mirch)

(5-6)

Salt

(to taste)

Oil

(2 tbsp)

Curry leaves (Kadipatta)

(a few)
Method
Soak the imli in a cup of warm water for about an hour.

Clean, wash, and dry the adrak by wrapping it in a clean cloth for around 30 minutes or till the dampness disappears. Chop the dry adrak into pieces.

Heat 1 tbsp oil in a pan and add jeera. When the jeera starts spluttering and gives off an appetising aroma, add chana and urad dal.
Fry until the dals turn golden brown. Add dhania and sabut lal mirch and fry for a few seconds more before turning off the flame. (Make sure you follow this sequence while preparing the tadka. Dhania and sabut lal mirch burn fast and hence need to be added after the jeera and the dals are done.)
When cool, grind the dal mixture along with the chopped adrak, gud, imli, and salt to taste. Add water only if necessary; water decays the chutney faster, cutting down its shelf life.
Heat 1 tbsp oil in a pan and add rai and kadipatta to it. When the rai starts spluttering, take the tadka off the flame and pour it over the chutney. This spice mix will sizzle and give off an appetising fragrance. Cover it instantly to let the flavours seep in.

Allam Pachadi can be eaten warm or cool.

MEAL
2,731

views +
RELATED RECIPES
3,641

views +

2,800

views +
Scroll To Top