In the node detail page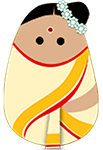 Kerala
Achappam
Duration: 15 minutes
Serves:

2 to 4 people

Spice Level: Zero
Authenticity Slice
Adjusting the heat is critical while frying the Achappams. Remember to heat the oil on a high flame. Once it has turned hot, lower the flame to a medium and then fry. If the oil is too hot, the Achappams will turn dark brown and taste bad
Trivia Tadka
Achappam is a traditional Christmas-time Keralite snack popular among Christian families of the state. 'Achu' means 'mould' and 'appam' means 'something made of rice flour and deep-fried or steam-cooked' in Malayalam. Achappam is a crunchy sweet snack and is usually round in shape, somewhat resembling a flower. It is made using a special mould.
Ingredients
Rice flour

(1 cup)

Refined wheat flour (maida)

(2 tbsp)

Sugar

(4 tbsp)

Salt

(a pinch)

Green cardamom (hari elaichi)

(2)

Water

(½ cup)

Coconut milk

(¼ cup)
Method
In a paraat (big, flat plate with shallow edges), sieve the rice flour.
Powder the sugar in a mixer-grinder and keep it aside.
In a deep-bottomed bowl, mix the flour and coconut milk to make a smooth paste.
Then, add in the sesame seeds and salt and mix well again.
Next, adding in a little at a time, mix the sugar powder in it well. Set aside for 30 minutes. The batter should be thicker than regular dosa batter.
Heat oil in a kadhai, dip the Achappam mould in the oil and allow it to heat up. Make sure that the Achappam mould is completely immersed in the oil.
When the mould is hot, remove it from the oil with the help of a clasp and dip it into the batter. Make sure that the batter covers only ¾ of the mould.
Then, take the mould out of the batter and immerse it back into the hot oil. When the batter has cooked, it will detach itself from the mould. If that doesn't happen, shake the mould slightly to free the Achappam from it.
Keep turning the Achappam and when both its sides have turned light brown in colour, remove from the oil. The Achappam is now ready to be served.
Repeat the same with the rest of the batter. Store in an air tight container once cool.
RELATED RECIPES
1,077

views +

848

views +

1,575

views +
Scroll To Top