In the node detail page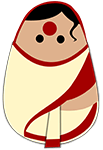 Bengali
Aamer Mishti Achaar
Duration:
Serves:

people

Spice Level: Medium
Authenticity Slice
When making authentic pickles, it's best to use roasted and powdered rock salt as it enhances their flavour. To increase their shelf life, store them in glass jars or porcelain "barnis".
Trivia Tadka
Bengalis love their sweet and sour mango pickle. Sourness from the mango, sweetness from jaggery, mild heat from dry red chillies, a hint of spice from the fennel and fenugreek and finally a dash of mustard oil rounds up this flavour-packed pickle.
Ingredients
Raw mango (kairi), chopped into large cubes with skin

(3 cups)

Jaggery (gud), grated

(2 cups)

Sugar

(1 cup)

MTR Haldi/Turmeric Powder

(2 tsp)

MTR Lal Mirch/Red Chilli Powder

(2 tbsp)

Fennel seed (saunf)

(1 tbsp)

Fenugreek seeds (methi dana)

(1/2 tbsp)

Dry red chillies (sookhi lal mirch), cut into small bits

(3–4)

Mustard oil (sarson ka tel)

(3 tbsp)

Salt

(1/4 cup)

Water

(1 cup)
Method
Heat water in a pot, when it comes to a boil add MTR Haldi/Turmeric Powder and half of the salt, turn off the flame.
Now add in the mango cubes and let them soak in the brine for an hour.
Drain the water and dry the mango pieces on a kitchen towel under a fan.
Simultaneously, dry roast fenugreek and fennel seeds and ground them coarsely.
Heat mustard oil in a kadhai, add red chillies and fry until they change colour.
Lower the flame, add the grated jaggery and cook until it forms a thick liquid. Now stir in sugar and cook again for 5–8 mins, until the mixture thickens and is glossy.
Next, add the mango pieces and cook on low flame until the liquid coats the mangoes, turn off the flame.
Mix the ground fenugreek and fennel, MTR Lal Mirch/Red Chilli Powder and remaining salt.
Allow the mixture to cool. Store in a jar and serve with rice, roti and dal.
Scroll To Top