Laccha Parantha, Palak Rajma Masala, Aam Ka Panna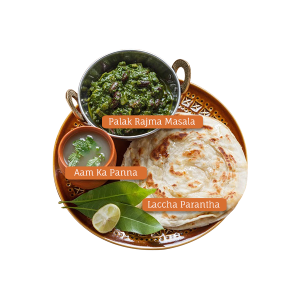 A sultry summer afternoon lunch can be made rejuvenating with this thali of Lachha Parantha, Palak Rajma Masala and Aam Ka Paana. The Palak Rajma made using whole grain and spinach perfectly complements the layered wheat flatbreads, a specialty of Punjab. You can wash it down with a tall glass of freshly made aam ka panna, a raw mango juice which is also natural body coolant.
VIEW INDIVIDUAL RECIPES
Palak Rajma Masala
Duration:20 minutes
Serves:2-4 people
Authenticity Slice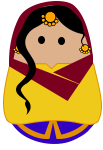 Want your dish to be a 10/10? Make sure that the rajma beans are soft, not mushy. This gives both taste and texture to the dish.
Ingredients
Kidney beans (rajma)

(1 cup)

Spinach leaves (palak), puried

(1 cup)

Tomato, finely chopped

(2)

Onion, finely chopped

(1)

MTR Lal Mirch Red Chilli Powder

(1 tsp)

MTR Garam Masala Powder

(1 tsp)

Ginger, finely chopped

(1 inch piece)

Garlic cloves, finely chopped

(4)

Raw mango powder (amchur)

(1 tsp)

Salt

(to taste)

MTR Haldi Turmeric Powder

(1 tsp)

Green chillies, split vertically

(4)

Oil

(1 tbsp)
Method
Soak rajma in water overnight. Pressure-cook it through 4 to 5 whistles.
Drain the water and keep the rajma aside in a separate bowl.
Now wash the palak thoroughly with water and put it to boil. Once done, drain all the water and allow it to cool down.
Grind the palak and tomato in a grinder and keep the mixture aside.
Heat oil in a kadhai and then, add garlic, onion, and ginger to it.
Sauté them well. Once the onion turns golden brown, add palak, rajma and amchur to the kadhai.
Add a little water if required. Now, add salt, MTR Lal Mirch/Red Chilli Powder, MTR Haldi/Turmeric Powder and MTR Garam Masala and cook till the gravy becomes thick.
Add fresh cream if you like and serve hot.
Lachha Paratha
Duration:25 minutes
Serves:2 people
Authenticity Slice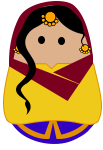 Traditionally these parathas are made in a tandoor, but can also be made in an oven or on a tawa/pan with equal ease. The trick to make the paratha crisp is to cook it over a low flame.
Ingredients
All-purpose flour (maida)

(2 1/2 cups + 1/4 cup, for dusting)

Warm water

(1/2 cup)

Milk

(3/4 cup)

Fennel powder (saunf)

(2 tsp)

Salt

(1 tsp)

Clarified butter (ghee)

(1/2 cup + 2 tbsp)

Oil or ghee

(for shallow frying)
Method
Sift maida (all-purpose flour) and salt together.
In a deep plate, pour the flour and make a dent (well like) in the middle, add milk and water to it. Mix gradually and knead into dough.
Cover with a moist cloth and keep aside for 10 minutes.
Melt ½-cup ghee and pour it on the dough, kneading constantly to make it soft and smooth.
Add fennel powder and knead again for 5 minutes.
Divide the dough into 8 even pieces and roll each into a smooth roundel.
Roll out each peda into a disc of roughly 8-inches in diameter on a lightly floured surface. Using a pastry brush, spread a very thin layer of oil over the top of the disc.
Now, roll the disc up like a jelly roll, then twist it into a tight spiral, and tuck the end underneath. Flatten gently with your hand, then re-roll into an 8-inch disc.
Heat a tawa and with oil or ghee shallow fry the paratha on both sides on medium-low heat until it is golden brown.
The layered paratha tastes best when accompanied by a gravy dish like paneer do pyaza as the flaky layers can absorb the delicious gravy.
Aam Ka Panna
Duration:25 min
Serves:6-10 people
Authenticity Slice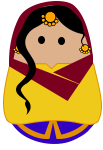 Aam ka panna has a sweet-tangy and pleasant taste. The addition of sugar is what makes it so delicious so make sure to add sugar and black salt according to the sourness of the mango.
Ingredients
Raw, medium- sized mangoes (kachhe aam)

(2)

Jaggery or sugar (gudh/shakkar)

(1 cup)

Black salt (kala namak)

(1/2 tsp)

Cardamom (elaichi) powder

(1 tsp)

Dry ginger powder (saunth)

(1/2 tsp)

MTR Kali Mirch/Black Pepper Powder

(1/4 tsp)
Method
In a pressure cooker, boil 2 mangoes with a cup of water, and scoop out the pulp.
Add jaggery, cardamom powder, ginger powder, black salt and MTR Kali Mirch/Black Pepper Powder to the pulp.
Process the above mixture in a blender until smooth.
Spoon 2 tsp of pulp into each serving glass, add water, ice-cubes and serve.
Your delicious aam panna is ready!