In the node detail page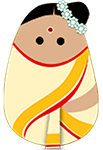 Kerala
Ada Pradaman
Duration: 60 minutes
Serves:

4 people
Authenticity Slice
Making 'ada' for ada pradaman at home is what gives the dish its authentic flavour. So make sure to cook/simmer ada in fresh coconut milk for that irresistible unique taste.
Trivia Tadka
This extremely popular and tasty dessert from God's own country is made using coconut milk, which is a natural cure for stomach problems.

Ingredients
For the Ada
Rice flour

(1 cup)

Salt

(a pinch)

Water

(approx. 2 tbsp)
For the Pradaman
Jaggery (gud), powdered

(1 cup)

Water

(1/4 cup)

Coconut (nariyal) milk (first milk)

(1/2 cup)

Coconut (nariyal) milk (second milk)

(1/2 cup)

Clarified butter (ghee)

(2 tsp)
For garnishing
Coconut (khobra), chopped

(2 tsp)

Cashew nuts (kajoo)

(5–6)

Raisins (kishmish)

(5–6)
Method
Add approximately 1 cup warm water, little by little, to the rice flour, until it is a thick and smooth paste.
Spread the batter on a banana leaf, roll and steam for 10 mins.
Allow it to cool completely. Once cooled, cut the ada into smaller pieces.
In a wok/pan, melt jaggery in water and allow it to boil.
Add ghee and the ada pieces to it.
Now add the first coconut milk and continue to boil the ada pradaman.
When it starts to thicken, add the thick coconut milk and when it comes to boil, switch off the heat.
Heat ghee in a small pan and roast the chopped coconut pieces, cashews, raisins one by one. Pour them over ada pradaman.
Your authentic dessert is ready for Onam Sadya.
RELATED RECIPES
1,077

views +

848

views +

1,575

views +
Scroll To Top